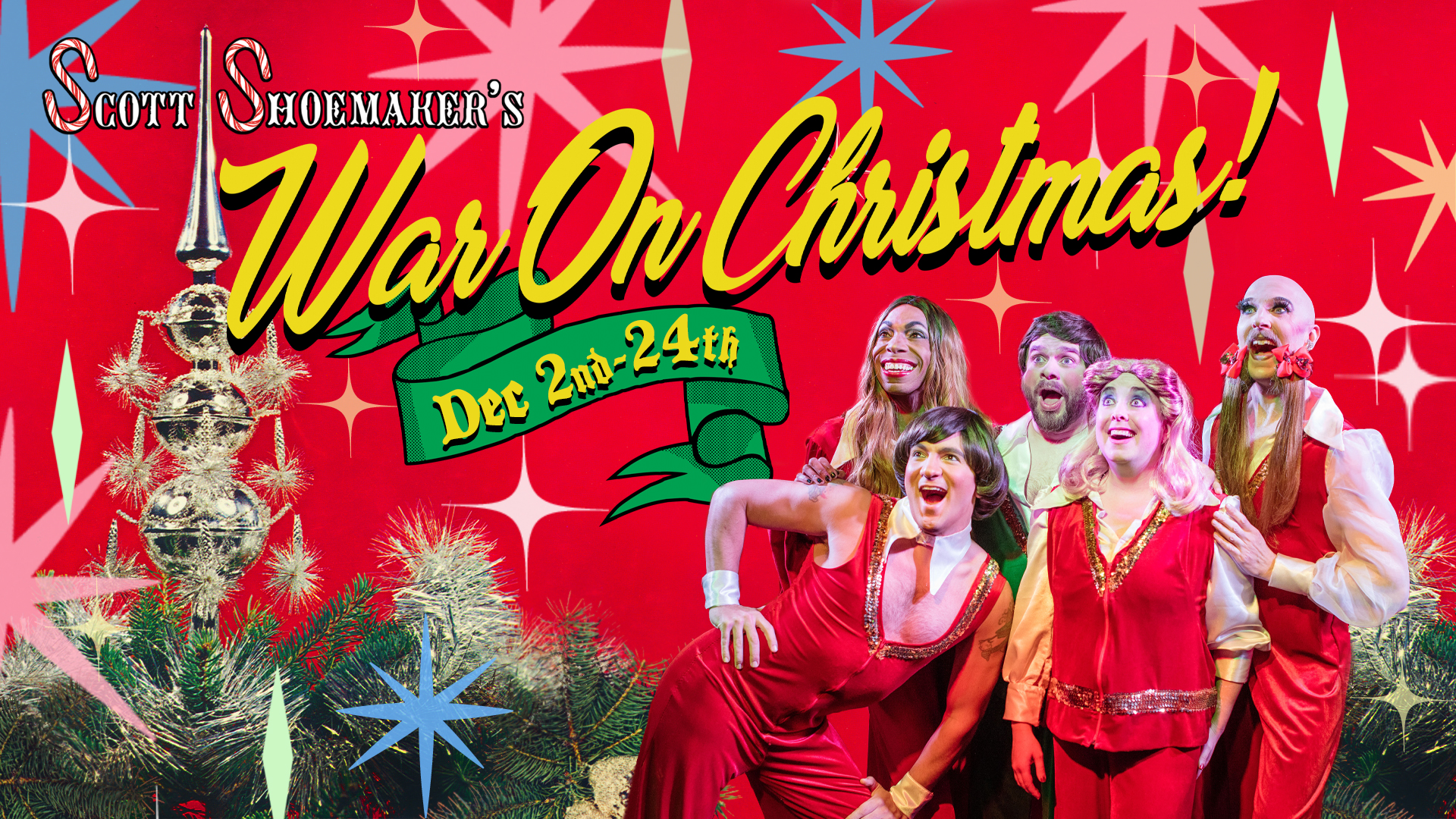 Your favorite holiday traditions can now be visited in person! Check out what's opening in December and don't miss your present by getting tickets late! Shows are already selling out.
Snow Business, Seattle Men's Chorus, Benaroya Hall, Federal Way Performing Arts Center, Everett Civic Auditorium, 12/5-23/21
Everyone's favorite Christmas chorus is back on the boards at Benaroya Hall, where it seems they belong best. Get ready for sexy Santas and colorful choralography and the dulcet tones of a 200-man musical melding.
www.seattlechoruses.org or
https://flyinghouse.secure.force.com/ticket/#/events/a0S1S000009r1gHUAQ
Scott Shoemaker's War on Christmas, Shoes and Pants Productions and Theatre Off Jackson, 12/2-24/21
Christmas is saved! The all-star variety spectacular that quickly became a YuleTide tradition makes its triumphant return at Theatre Off Jackson! After two years of sold out shows at Re-bar and a hit streaming special in 2020, "Scott Shoemaker's War on Christmas" is ready to knock your stockings off once again. Come spend an evening with Scott and a cast of Seattle luminaries as they try to figure out who's fighting a war on Christmas and what for? Comedy, songs, dance numbers, delightful videos, and partial nudity! Joining Scott are an amazing group of illustrious superstars: Adé, Waxie Moon, Mandy Price & Faggedy Randy!
Christmastown: A Holiday Noir, Seattle Public Theater, 11/24/21-12/24/21
In this film noir-inspired holiday thriller, hard-boiled detective Nick Holiday investigates some un-holiday-like shenanigans taking place in Christmastown that sends him on a search for the truth about Big Red. Add a glamorous elf, a used-Christmas-tree salesman, a muckraking reporter, and a quick-thinking cab driver, and you have a new holiday classic.
A Very Die Hard Christmas, Seattle Public Theater, 12/3-30/21
Yippie Ki Yay, it's a Christmas miracle. From The Habit, the comedy writers that have had Seattle in stitches for years, comes the return of the new annual holiday favorite - A Very Die Hard Christmas. This musical comedy is a fast-paced laughter-packed parody of "the greatest Christmas movie of all time." For those who like their Christmas entertainment with lots of snarky 80s comedy and over-the-top action, this is one of Seattle's must-see shows.
The Winter's Tale, Seattle Repertory Theatre, at Cornish Playhouse, 12/16-29/21
"A Hybrid Film and Live Theatrical Experience" Seattle Rep's Public Works family of community and professional actors join together for a dazzling journey of reunion and redemption in a musical adaptation of Shakespeare's The Winter's Tale. The Sicilian King Leontes suspects his wife of infidelity and seeks revenge by imprisoning her and banishing their newborn child to distant shores. Sixteen years later, in the wild woods of Bohemia, the consequences of his actions begin to unfold.
(Note: What does a "hybrid film and live experience" mean? The Winter's Tale has been rehearsed and filmed onsite at Seattle Rep and Seattle Center campus and beautifully edited to feature the Bard-inspired story as well as a glimpse into the behind-the-scenes magic of creating a Public Works production. To experience The Winter's Tale in person, you will join fellow theater fans at the Cornish Playhouse for one of five showtimes to watch the film together.)