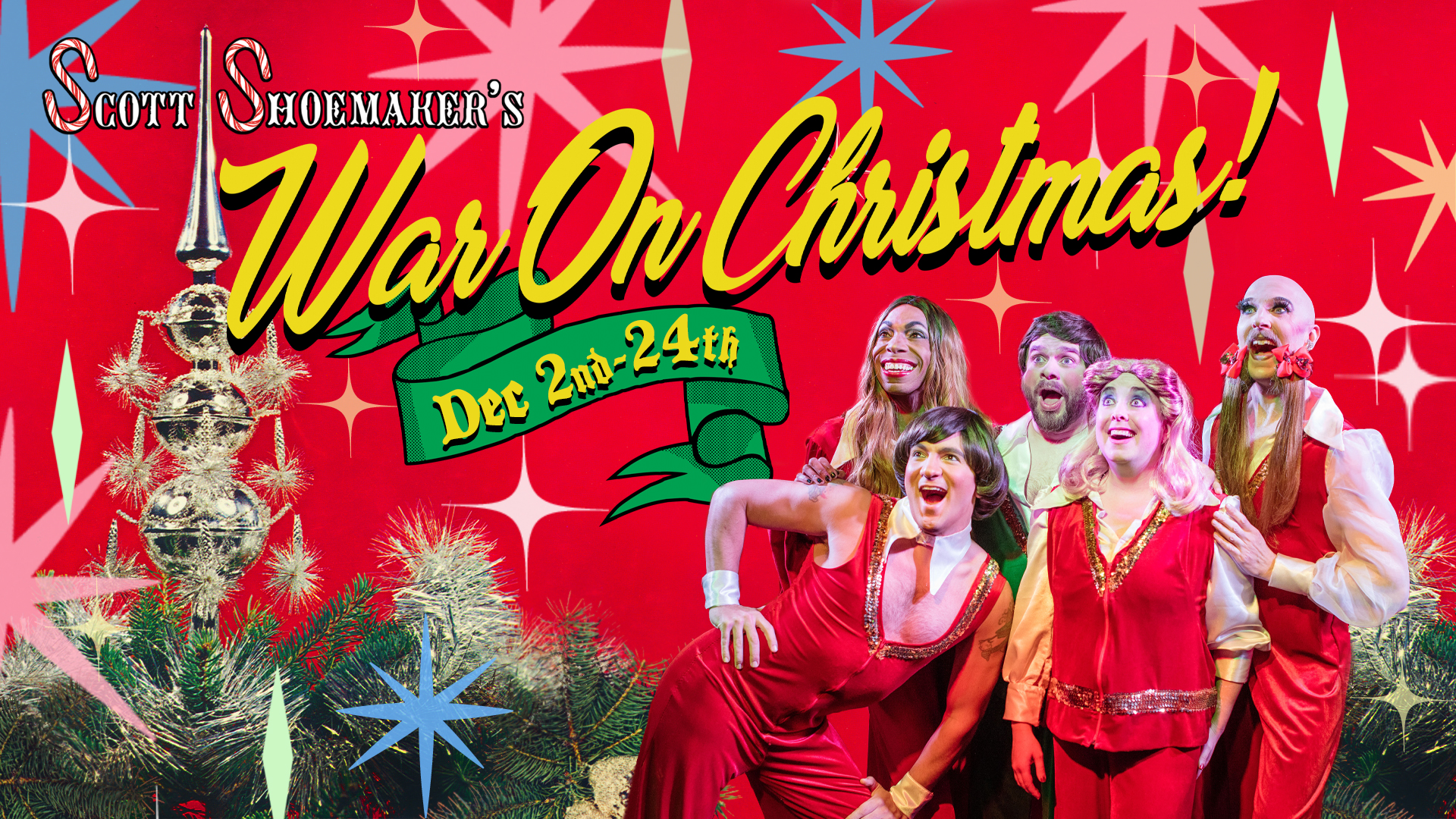 Your favorite holiday traditions can now be visited in person! Check out what's opening in December and what is still running into the holidays and don't miss your present by getting tickets late! Shows are already selling out.
We've Battled Monsters Before, ArtsWest, 11/26/21-12/26/21 (world premiere)
The next world premiere musical arrives from the creative mind of Justin Huertas. When you're the youngest sibling in a family of secret warriors who for generations have protected Seattle from monsters and demons, living up to your Lola's expectations is, in a word, daunting. Adarna's mistakes were cute at first, but when they begin to cost her family more than she ever imagined, she must decide what she would sacrifice to save them. Loosely adapted from the 16th century Filipino epic poem Ibong Adarna, playwright-composer-lyricist Justin Huertas returns to his Lizard Boy roots with a sweet and intimate actor-musician musical adventure.
Christmastown: A Holiday Noir, Seattle Public Theater, 11/26/21-12/24/21
In this film noir-inspired holiday thriller, hard-boiled detective Nick Holiday investigates some un-holiday-like shenanigans taking place in Christmastown that sends him on a search for the truth about Big Red. Add a glamorous elf, a used-Christmas-tree salesman, a muckraking reporter, and a quick-thinking cab driver, and you have what the Seattle Times calls the "best new holiday romp of the year!"
Inspecting Carol, The Phoenix Theatre, 11/27/21-12/20/21
​Behind the scenes of a struggling theatre's annual clumsy production of A Christmas Carol, rehearsals are at a standstill. Tim is no longer Tiny, Scrooge wants to do the play in Spanish (Feliz Navidad), and their funding is on hold pending an inspection. To top it off, a man who asks to audition for the show is mistaken for the inspector for the National Endowment for the Arts. The cast caters to the bewildered wannabe actor, and he is given a part in the ill-fated production. Everything goes wrong at the theatre that is anything but show business as usual.
www.tptedmonds.org/season-13--20202021.html
Snow Business, Seattle Men's Chorus, Benaroya Hall, Federal Way Performing Arts Center, Everett Civic Auditorium, 12/5-23/21
Everyone's favorite Christmas chorus is back on the boards at Benaroya Hall, where it seems they belong best. Get ready for sexy Santas and colorful choralography and the dulcet tones of a 200-man musical melding.
www.seattlechoruses.org or https://flyinghouse.secure.force.com/ticket/#/events/a0S1S000009r1gHUAQ
Scott Shoemaker's War on Christmas, Shoes and Pants Productions and Theatre Off Jackson, 12/2-24/21
Christmas is saved! The all-star variety spectacular that quickly became a YuleTide tradition makes its triumphant return at Theatre Off Jackson! After two years of sold out shows at Re-bar and a hit streaming special in 2020, "Scott Shoemaker's War on Christmas" is ready to knock your stockings off once again. Come spend an evening with Scott and a cast of Seattle luminaries as they try to figure out who's fighting a war on Christmas and what for? Comedy, songs, dance numbers, delightful videos, and partial nudity! Joining Scott are an amazing group of illustrious superstars: Adé, Waxie Moon, Mandy Price & Faggedy Randy!